EMERGENCY PLUMBER SOUTH KENSINGTON
Excellent plumbing is necessary for every household. For this reason, everyone needs to have a reliable plumbing company that is always ready to deliver outstanding service. At Plumber Kensington, we provide exceptional plumbing, heating, and drainage services. Our experts at Plumber Kensington are well trained engineers and plumbers who undergone professional training to ensure that they deliver one of the best plumbing services to our clients.
We deliver excellent services to our clients which always wins us their trust and satisfaction — our client's satisfaction is our utmost priority at Plumber Kensington. We have a team of professional plumbers and well trained engineers who are available 24/7 to attend to your emergency plumbing issues — we understand that plumbing and heating facilities can develop faults and break down at any time, which is why we ensure to respond swiftly to your emergency plumbing need within the hour when you contact us on 02071833879 in SW7.
Are you having difficulties in using your central heating systems or plumbing facilities? Do you require efficient and affordable plumbing services? Then contact Plumber South Kensington today. Our team of professional plumbers and engineers can handle any plumbing or heating issues you may be experiencing no matter how complicated; we can also carry out installations and repairs of your plumbing facilities.
Contact us on 02071833879 today.
100% satisfaction guaranteed
Recent Google Reviews

They are just great professional from the beginning till the end. My kitchen and bathroom looked amazing and it was quite inexpensive than all other quotes I got. They completed the job well ahead of schedule. Highly recommended!


Had a great experience with Ali. My boiler broke and he came the very same day. I required a section changed and he ordered the parp for me and looked through it online to spare me some cash. He returned two days after to fix the new part. Would recommend.

WHY CHOOSE US?
At Plumber Kensington, our clients are always satisfied with our excellent plumbing services; we strive to make sure we provide expert services, using the right tools and equipment to ensure the satisfaction of our client. Some other reasons why we should be your first choice include;
License
At Plumber Kensington, we are fully licensed to carry out plumbing services in SW7. This entails carrying out plumbing services without restrictions. We are a well-known plumbing company in South Kensington and its environs. You can trust us to deliver exceptional plumbing services in SW7.
24/7 Availability
Plumbing issues can occur at any time, which is why at Plumber South Kensington, we are always available to attend to your plumbing emergencies any time they occur. Rely on us to handle your plumbing and heating needs irrespective of the time of the day that they occur. Do contact us on 02071833879 and we will be at your doorstep within the shortest time possible.
Affordable Services
We do not take advantage of the importance of our professional services to give neck-breaking charges to our clients. Our fees are moderate, and our services are affordable, with no hidden or extra cost.
Transparency
Hidden charges are not part of our dealings at Plumber South Kensington. We always let our clients know what we are charging for and why. This is also the reason why we provide accurate financial quotes that match all our services.
Local Area
South Kensington is a popular tourist area in London known for its cultural landmark and possession of multiple museums. It is a district of West London in the Royal Borough of Kensington and Chelsea. South Kensington is not just home to a large number of French expatriates, but it also contains a lot of Spanish, American, and Italian citizens. South Kensington shares some of its eastern areas with the city of Westminster.
It has a postcode district of SW7 and a dialling code of 020.
Plumber South Kensington offers a wide range of plumbing services including repairs, installations of your heating systems and also drainage service. Contact us today on 02071833879 if you need a professional plumber in South Kensington.
OUR SERVICES
At Plumber South Kensington, we offer the following professional services;
Plumbing Services
A lot of plumbing services are always needed in households and of course, commercial environment as well. From fixing broken pipes, replacing damaged components, and fixing leakages to a variety of other plumbing services — Plumber SW7 is available to handle all your plumbing issues. Our plumbers in South Kensington are experts who are trained to carry out plumbing task efficiently. Our years of experience in plumbing has given us the skill and understanding to handle any plumbing issue no matter how complicated it may seem.
Place a call to us on 02071833879 today to employ the services of our plumbers.
Emergency Plumbing Services
At Plumber South Kensington, we are always prepared to respond to your emergency calls rapidly. We understand that a faulty plumbing facility can pose a threat to lives and properties. This is why we are always quick to respond to emergency plumbing issues in SW7.
Our well-trained plumbers and certified engineers are available 24/7 on standby to attend to your plumbing emergency within the hour when you reach out to us. We are equipped with the right tools to handle your plumbing issue swiftly. Contact us for your emergency plumber in South Kensington.
Local Plumber
Plumber South Kensington is your go-to local plumber in SW7. Every home needs to have a local plumber around to fix minor plumbing faults when they arise. Local plumber South Kensington is available to give you professional plumbing services in South Kensington and its environ. We are well equipped to respond to your plumbing issues swiftly given that we are stationed locally in SW7. Call us right away for a local plumber.
Drainage Services
One of the plumbing services carried out by Plumber Kensington is the unblocking of drains. When drains get blocked, they prevent the free flow of water, thereby causing discomfort in your home. We have a team of experienced plumbers trained and skilled in unblocking blocked drains in South Kensington. If you notice that your drain is not flowing freely, do contact us on 02071833879 and we will send our experts to you within the hour.
Heating Services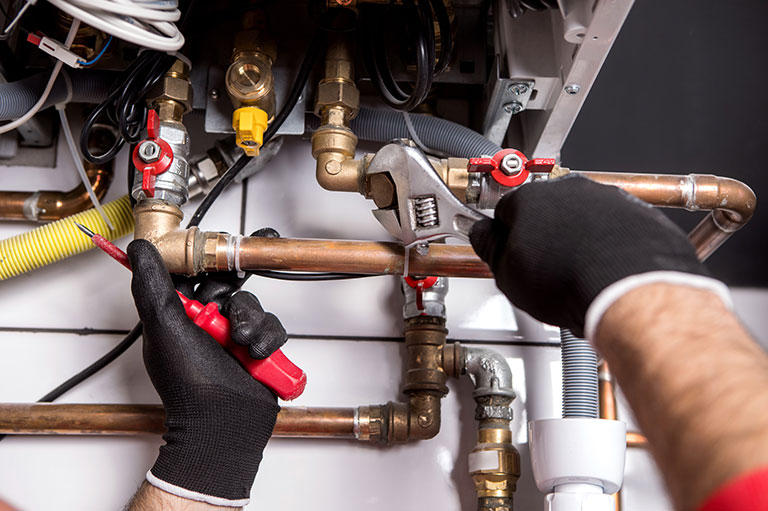 Our engineers at Plumber South Kensington are well trained and are available 24/7 to solve your central heating system issues. Contact us for our heating services SW7 on 02071833879 for the fixing of your faulty heating systems, or installation of new heating systems and maintenance.
Boiler Installation Services
Boilers are necessary for the home. If you need to install a new boiler, or you need your old boiler fixed, our boiler installation SW7 service is available for you. At Plumber Kensington, we have a team of experts who are experienced with different boiler brands. No matter the type of the boiler you want in your home, or the house you are moving into, our experts for boiler installation in South Kensignton can be trusted. Do not hesitate to call us on 02071833879 and we will send one of our engineers to you swiftly.
Boiler Repair Services
Boilers often develop faults and break down at any time. When your boiler develops a fault, and you need to have it fixed, contact us at Plumber Kensington on 02071833879, to have a professional take a look at your boiler. It is vital that you know, that the earlier you fix the little boiler problems, the longer your boiler can last.
Also, fixing those minor faults prevents them from growing into more significant damage; therefore, our boiler repair SW7 saves you more expense and time. Contact us to have your boiler repairs in South Kensignton carried out by our team of experts.
Contact Us
Plumber Kensington is a plumbing company with vast experience from our years of handling different plumbing, drainage and heating issues in SW7. From installation, repairs and maintenance of plumbing and heating facilities, you can count on us. We also have a team of engineers and professional plumbers who are trained to give expert services to ensure the satisfaction of our clients. Contact us on 02071833879, and we will be there to help you out any time.
Recent Google Reviews

Dan is a hero. He came on Sunday and put his great effort to help me, fixing our urgent plumbing with a great deal of consideration and flawlessness! Much obliged Dan with your work, would highly recommend you to my family and friends. Very cheap prices as well.


Perfect job dine quickly
Thanks