PLUMBER KENSINGTON IN NORTH KENSINGTON, W10
Welcome to your run-to plumbing and heating company in North Kensington
If you reside in North Kensington W10 and its environs, a one-stop solution to your entire plumbing problem is around the neighbourhood. Plumber Kensington is a company which provides quality services that can be trusted. We are known for cleaning blocked drains, boiler installation, general heating services, and we never compromise our quality.
Regardless of the fault, we have well-trained professionals and other experts to ensure maximum satisfaction is attained. Through our expert plumbers, we provide our customers and potential customers with an upgrade in plumbing services by suggesting to them when the need arises.
For your emergency plumbing issues in North Kensington, you can call 020 37457589 to hire our experts.
100% satisfaction guaranteed
Recent Google Reviews

I called emergency plumber for fixing the issue with water heater. He checked the condition of the heater and provided quality service at an affordable rate. We are really happy to hire professional plumbers for our work.


I just had a new boiler installed from these experienced plumbers. I am really impressed with their service. See them next year for annual servicing. Highly recommended!

Local Area
North Kensington is part of West London. It is south of Kensal Green and north of Notting Hill. Also, it's a district in the Royal Borough of Kensington and Chelsea.
The name North Kensington was a ground where most of the 1958 riots of Notting Hills occurred. It was initially called Notting Hill in 1864 up until 1880 when it was renamed to Ladbroke Grove also known as North Kensington. It was once used as a park and railway station until it was closed in 1940 before it was then changed into an estate.
The need for quality plumbing has increased as some of the residents tend to call different emergency plumbers that end up making things worse. Plumber Kensington has been in existence and has a good reputation in providing plumbing, heating and drainage services.
Why worry any longer? Call us to put an end to that plumbing menace
Why Choose Us
We are Responsible
We always like taking up responsibility, especially when it comes to your plumbing problems. We know the importance of a highly functional bathroom or toilet. We, therefore, take the responsibility to ensure our customers and potential customers can rely on us making their problems our responsibility.
Affordable
Plumber Kensington is the right company to go to if you don't want to break your pocket while carrying out that installation or fixing that emergency. We offer a very competitive pricing system to make sure we are affordable by the mass.
Customer's satisfaction is Guaranteed
Not only do we offer affordable services, but we can also beat our chest to affirm that we offer excellent customer service. We aim to provide better services with every passing job we undertake. If you want optimum satisfaction for that job, then call Plumber Kensington today.
We Only Use Professionals
To ensure optimum quality for every service we provide, we use a carefully handpicked method to select well-trained plumbers and engineers to ensure your work is one by some of the industry's best.
Our services
Our services come with distinction as we don't promise what we cannot do. Outlined below are some of our top services.
Emergency plumbing
Boiler installation
Boiler repair
Heating services
Blocked drains
Local plumber
Plumber North Kensington
Are you in need of a reliable plumber in North Kensington? Plumber Kensington has got you covered. As a plumbing company based in North Kensington W10, we offer a wide range of plumbing and heating services to homes and businesses which include emergency plumbing, boiler repair, boiler installation, unblocking of drains ad general plumbing services.
We guarantee maximum customer satisfaction in all our plumbing services. Our plumbers W10 are reliable and professional — your mind should be at rest no matter the plumbing problems you have. Call us today, our plumbers in North Kensington are always ready to meet your need.
Emergency Plumbing
Plumbing problems most times have zero warnings, especially when it's an internal fault. We provide emergency services round the clock for the people of North Kensington. With our expert emergency plumber W10 on your plumbing and heating challenges, you can rest assured of quality services.
Our emergency plumbers in North Kensington are experts in salvaging plumbing faults. Be it a pipework replacement or fixing of a blocked toilet in the middle of the night, you can be sure to count on us. Contact us right away.
Boiler installation
Carrying out boiler installations W10 is very delicate, which is why you need the services of an expert well trained engineer. At Plumber Kensington, we only hire our engineers. You can count on us for boiler installations in Noth Kensington by our experts that will be guaranteed for a year. Whether you are moving into a new house or want a boiler upgrade, our team of engineers will be glad to help with your boiler installation in North Kensington.
Call us now, and our team will be in your facility right away to offer trusted services.
Boiler repair
Boilers are one of the very sturdy appliances we use in the home. Even with its durability and nature, they still break down, especially in the absence of regular maintenance. In such situations, boiler repairs W10 will be needed in order to get your appliance back to life.
Don't hesitate to reach out to us when this occurs — our boiler repair experts in North Kensington would be glad to help out.
Heating service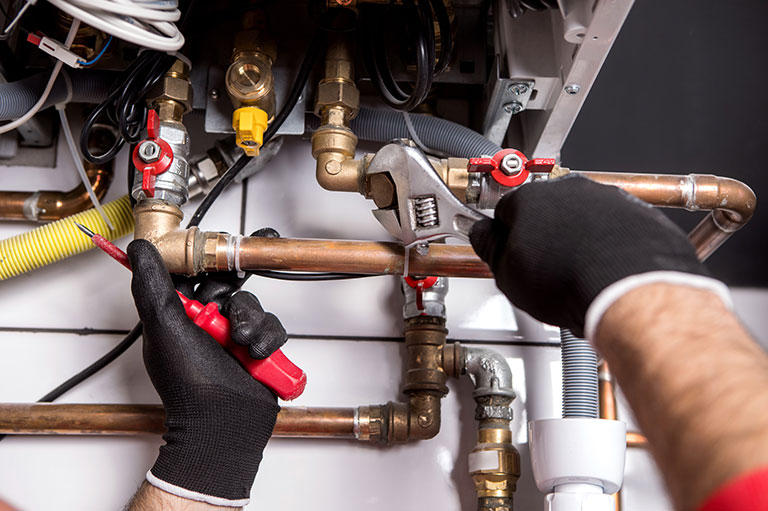 The extreme cold in the winter is certainly not a good time for your heating system to have issues. Here at Plumber Kensington, we provide a lasting solution to any heating system so that you can stay warm in cold seasons. We have highly skilled engineers you can trust for all your heating services W10 no matter the challenges you are experiencing. Please call us today to access an engineer for your heating services in North Kensington.
Blocked drains
Blocked drain W10 issues can cause many unpleasant plumbing experiences in your home. We have capable plumbers who can handle critical blocked drains issues in North Kensington.
Tackling some blocked drains W10 issues can be problematic as some cannot be unblocked by mere plungers but require the help of an expert plumber. Our plumbers W10 uses use CCTV drain survey to locate the exact point of blockage to minimise the damages incurred when solving the problem.
Call us today for your blocked drains in North Kensington.
Local plumber
What we call the perfect mobile plumber is a local plumber W10. This plumber carries our special bag that contains modern movable working tools — our local plumbers in North Kensington are experts and can perform several quick fixes to minor plumber maters in the home with ease and for cheap.
Our local plumbers are well situated around North Kensington so that they can reach you in the shortest time possible. Call us now!
CONTACT US
If you need quality, reliable and dependable plumbing service, contact us today. You can never go wrong when you hire Plumber Kensington for your plumbing, heating, and drainage issues in North Kensington.
Money shouldn't always scare you — our services are at a highly competitive price with top quality. We have a good feedback database that enables us to improve our services. Don't miss out of excellent services today. Reach out to us now!
Recent Google Reviews

The plumbers offered great service at reasonable prices. Reached my place quickly. I will definitely use their services in future.



Hired them to install my new boiler. They did the work quickly and I am really happy with their work. I will not hesitate to recommend them to anyone who is looking for boiler installation.<