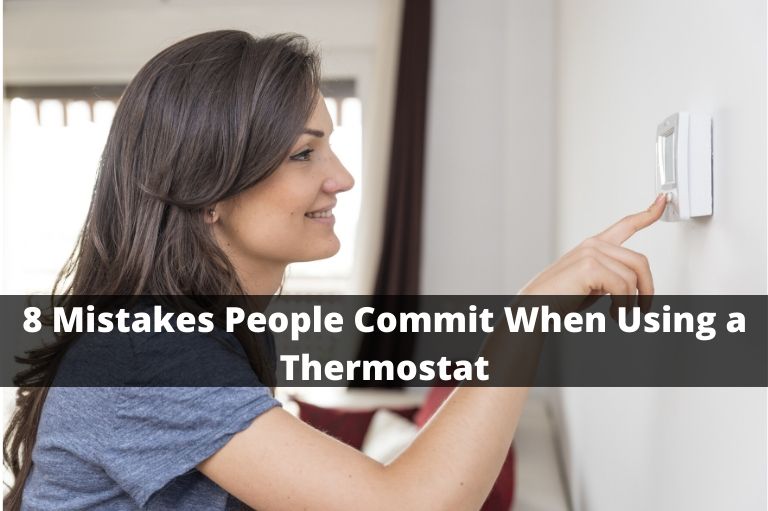 Do you want to control the heating system for greater temperature accuracy and better energy efficiency? As per research, most people are committing costly mistakes when using a thermostat. This blog post will discuss some of these errors and how to prevent them in order to reduce your heating bills. This way, you can stay warm during the cold months and cosy in the hot months.
Set incorrect temperature 
It is important to set the appropriate temperature on your thermostat so that you can feel comfortable and relaxed at home. However, many people seem to overheat their houses, which is a waste of energy. Like floor heating, these central heating installation services in Camden do not allow you to control the room temperature. This makes it much more difficult to keep a balance of the thermostat's temperature in your house.
A great tip is to turn on the heating system and set the radiator valve in the room to a comfortable level. After this, you can set the valves in the remaining rooms that you are using. The rooms that are not used need to have closed doors and radiators set to their lowest level.
What is the right temperature for your home?
Though the ideal temperature is your personal choice, the minimum temperature that is considered healthy during the winter is 18°C in the UK houses. As different thermostats provide specific benefits when it comes to controlling the heating system of your home, it is suggested to check the features of a thermostat before buying the right one for your exact needs.
Turn up the thermostat to heat up the rooms
If you are going to live in a cold house during the winter, then it is a wise decision that you use a thermostat. But that might not be able to make you feel warm quickly. The reason is that a thermostat does not have any control over how soon your house will heat up. What it can do is set the final temperature and ensure that you are comfortable.
It is a good idea to consider a basic thermostat that can restrict the temperature in your home. It is able to keep the heating on until the set temperature has been reached and will turn back on when the temperature begins to drop. Turning the thermostat higher than your level of comfort will let the system overheat your home, which will probably make it uncomfortable and will be a waste of energy.
Keep the heating system on
If you are looking to improve the energy efficiency of the thermostat, then it is advised to reduce the temperature when you do not stay at home. The amount of heat your house loses is somewhat linked to the difference in temperature between the inside and the outside of your house. So, the colder it is outside, the more heat you will need inside to maintain the set temperature.
When you stay in a cold house, then it is quite obvious you want to turn the thermostat up much higher than the normal level. This will overheat your house and waste money with low temperature when you had been away. You can choose programmable thermostats to avoid wastage of energy and ensure that the rooms are warm as you want them.
How can you set underfloor heating control?
Certain things might become complicated when the schedule changes suddenly, but an underfloor heating system controlled by a thermostat can be of great help. You may control a hydronic or Warm-up electric system with 4iE Smart Wifi Thermostat throughMyHeating app that provides improved efficiency, customised 'zoned' based heating solution and knowing the exact time it will take for warming up your house.
It's Smart Geo technology will warm up the heating system automatically before you reach your home and reduce the wastage of energy. My Heating is suitable to be used with central heating systems and 5iE Wireless Smart Thermostat.
Turn off the heating system rather than using setback temperature
Many people turn off their heating systems completely when they leave their house. However, this might put your home at greater risk of dampness, mould growth and burst pipes, which is likely in more severe cases.
It is suggested to use setback temperature in order to avoid unfavourable complications when the weather is extremely cold. A setback temperature does not mean in any way that the heating is on when you are away. When this setback temperature is right for your home, the heating will remain off when you are away for a certain time but protect from dropping very far if you are out for longer than expected.
What is the exact temperature to be set for central heating thermostats?
Getting setback temperature right for your house may take some time and require some experiment though a good starting point should be 16 degrees. Most houses require near 1 hour to warm up from 16 degrees to 21 degrees and so, you need to adjust the programme accordingly. Smart thermostats can help to get rid of the trouble of experimentation by calculating the best temperature to be used automatically for your house when you are away. Also, these thermostats will activate the heating system to warm up the rooms in time before your arrival.
Install a thermostat in a warm or cold room
Thermostats calculate the room temperature that has been placed through an air sensor or a floor sensor. These readings are key considerations for programming setback temperatures and they help in running a heating system efficiently. Hence, when a thermostat is installed in a very warm or cold room, it might not provide the exact true temperature of your house.
You should install the thermostats in the right location within your house so that they work in the most effective way. It is suggested to install a thermostat on the interior walls at an optimal height from the floor which is approximately five feet. Make sure that the thermostats are not installed near the windows or are exposed to direct sunlight and they need to be positioned away from different sources of heat such as ovens, radiators, lamps or other electronic devices that produce heat.
Make sure there is sufficient level of insulation in your house that can help to prevent the loss of heat and supports in maintaining consistent environmental temperature. In case of any issue, you may contact a plumber in Belsize Park NW3.
Turn up the thermostat rather than putting an extra layer of clothing
Wearing an additional layer of clothes may increase the temperature of the thermostat by at least 3 degrees. Apart from this, research has shown that reducing the average temperature in your house by one degree may save nearly 10% on energy bills.
Fail to check the troubleshooting guide
Sometimes, the thermostat might face a problem but you can resolve those issues quickly by going through the instruction manual carefully. This will also help you to use the features of your thermostat in the most accurate way.
If you have major issues with your thermostat like not being sure of how you can create a new heating schedule, how to override your thermostat or set a comfortable temperature, all thermostats have in-depth installation and troubleshooting guides and you may even access Warmup Support to get an answer for all your queries about the different kinds of products. Moreover, a plumber in Swiss Cottage NW3 is there too to help you in such cases at the same time. However, in certain cases, there might be technical problems at work such as an installation error or something that might affect the efficient functioning of the heating system.
Use on-off thermostat rather than a smart thermostat
Though some people prefer using traditional thermostats that only has the feature of turning on and off the central or underfloor heating system, Smart thermostats provide greater energy-efficiency and cost-saving features, which are great for saving money from long-term energy efficiency. Smart thermostats have several features that include – automatic heating, energy-usage data, personalised heat scheduling and remote access. A Smart thermostat helps to control the heating system with your voice by using a smart speaker like Amazon Echo. 
How should you use a manual thermostat?
Manual thermostats provide ease-of-use and trouble-free functionality. You do not have to programme a manual thermostat but rather, you can control the heating system with the flick of a switch for instant heat.
How can you use a programmable thermostat?
You may use a programmable thermostat for better control of the heating system that enables you to set customised heating schedules specifically made for your needs. Thus, if you need the heating system to be on at a specific time in the morning and evening or at different timings during the weekend, you may program the controller easily.
How should you use a smart thermostat?
5iE Wireless Smart Thermostat for central heating and Warmup's 4iE Smart Wifi Thermostat for underfloor heating helps to use full-colour touchscreens to set the heating schedules quickly and change the level for heat output. My Heating app on your Smartphone, you can control the thermostat remotely and provide more access like automatic heating so that your house gets warmed up before your arrival without programming a heating schedule.
Thus, it is advised to get thermostat installation in Camden done from qualified engineers only.