24 Hour Emergency Plumber in Charing Cross, WC2
Plumbing and emergency plumbing issues are things people in Charing Cross experience on a norm. It covers installations, maintenance, repairs etc. Our lives would be much more complicated if the ease provided by plumbing weren't there. Be it plumbing services like installation, regular maintenance and servicing, repairs or emergency plumbing service, you can be guaranteed the best in terms of service at Plumber Westminster.
Emergency Plumber Westminster in Charing Cross WC2 is a well - known plumbing company in Westminster with well-experienced, qualified, well trained engineers and plumbers to take care of every plumbing issue you might be experiencing.
With our plumbers WC2, all your plumbing needs will be met with the utmost level of professionalism. Even at odd hours, our emergency plumbers in Charing Cross will be available 24/7 whenever you call us.
Contact us on 020 71833801 today, and we will send a professional plumber within the hour.
WHY SHOULD YOU CALL US?
It is a well-known fact that there are numerous plumbing companies around the world, and in Westminster, however you should desire the best in terms of plumbing and heating service — this is where we at Plumber Westminster come in.
We always stand out amongst other plumbing companies in Westminster due to our exceptional level of service and dedication to work, which makes us the ideal run-to plumbing and heating company in Westminster.
Here are a few other reasons why you should hire us;
Wealth of experience
With the vast years of experience under our belt, it's easy to see why we are highly sought after by our clients, close and far away. We have been exposed to various plumbing problems and can assure you that we are equal to the task no matter the complexity of the plumbing issue. With just a call to us, we will send our local plumbers in Charing Cross to your property.
Reliable and trustworthy
Our plumbers in Charing Cross are known for being reliable and trustworthy. At Plumer Westminster, our word is our watchword. All our engineers and plumbers are guaranteed to deliver sterling service to all of our clients, at any time we are needed. When you hire us, you can rest assured that we will never compromise the quality of the services we offer.
24-hours reliability
Emergencies can be distressing, and worse, it can instil fear in the minds of those affected. In any emergency, call our plumber WC2, and we will send our well-versed plumbers to you within the hour. Just as our name implies "Emergency Plumber Westminster," we have a reputation of responding swiftly to all plumbing, drainage and heating emergencies.
SERVICES WE OFFER
At Plumber Westminster, our plumbers and engineers provide you with professional, reliable, and trustworthy services. If you need plumbing, heating or drain services in Westminster, then you should give us a call.
Below are some of our services;
PLUMBING
If you are in Charis Cross and you are in need of a plumber WC2, Plumber Westminster is the right place to go. From the installation of your kitchen faucets to the upgrade of your toilet facilities, to even the fixing of broken taps, our expert plumbers at Plumber Westminster would be readily available to attend to you.
Getting the most suitable plumber for all your needs should be your priority, and at Plumber Westminster, we are guaranteed to deliver always. You should give us a call today on 020 71833801 or book an appointment with us.
100% satisfaction guaranteed
Recent Google Reviews

I called emergency plumber for fixing the issue with water heater. He checked the condition of the heater and provided quality service at an affordable rate. We are really happy to hire professional plumbers for our work.


I just had a new boiler installed from these experienced plumbers. I am really impressed with their service. See them next year for annual servicing. Highly recommended!

EMERGENCY PLUMBING
Waking up in the middle of the night, to discover you have a leaking pipe, or a flooded house can create panic. Nonetheless, even at odd hours, you can still give us a call to report your emergency. We understand how disheartening these occurrences can be which is why our emergency plumbers WC2 are readily available to respond swiftly to any issue.
Our emergency plumbers Charing Cross are available round the clock even during weekends, holidays or out of work hours. Our clients comfort is a priority. Call us today!
BOILER INSTALLATION
Boilers are an excellent companion during the cold and cosy season as they provide us with regular supply of warmth and hot water. Getting a boiler in your home is always a delight but making a good selection can really be an uphill task. You don't need to sweat over this anymore as Plumber Westminster is right here for you.
We carry out boiler installation Charis Cross — from the selection of a good and reliable product to the installation, you can always count on us. You can be sure that we will get you something that suits your budget and size of family. Whether it be a residential or commercial property, our professional engineers will be glad to help out in boiler installation WC2.
We look forward to your call.
BOILER REPAIR
Boilers are one of the most rugged appliances in the home; notwithstanding this fact, they can still develop faults from time to time. These faults can be associated with prolonged use or the normal process of wear and tear. Whenever your boiler starts developing problems, or you begin to notice strange sound or noises coming from them, do well to contact our team for boiler repair in Charing Cross. We deliver nothing short of excellent boiler repairs WC2.
You should call us if your boiler is experiencing any issue even if it is a sudden stop at awkward hours. In order to avoid uninterrupted warmth all through the winter, reach out to us for annual maintenance.
HEATING SYSTEMS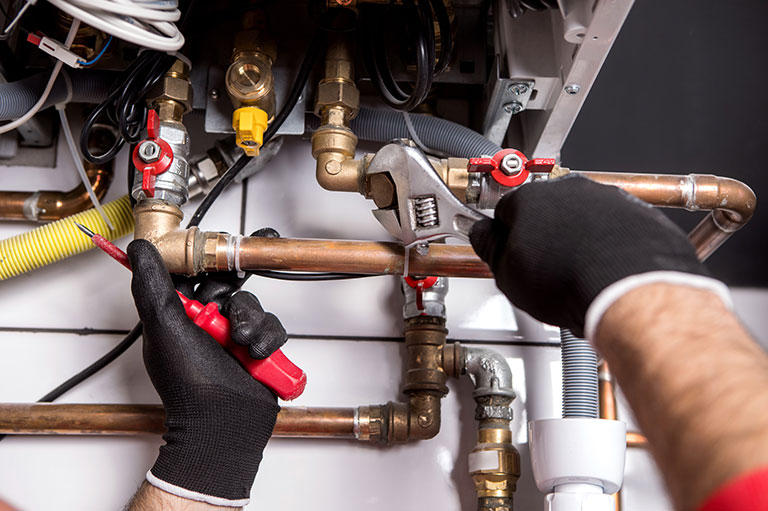 The cold winter days are lived through, by the help of our indoor heating systems. They provide and radiate warm or hot air to keep the insides of our homes warm when it's cold outside. You can get the best of your indoor heating systems when they are carefully selected and installed for you by a well-experienced plumbing company. Emergency Plumber Westminster will help you get the appropriate heating you desire through our heating service WC2.
For installation, repairs and maintenance of your heating system Charis Cross, don't hesitate to reach out to us today — we will give you the best.
BLOCKED DRAINS
Anyone who has been faced with the problem of a blocked drain can understand how stressful it can be. A blocked drain can be a menace whether in the kitchen or the bathroom. Sometimes, a drain may not be blocked entirely, instead, there might be slow drainage, or strange noise coming as the water drains.
Whatever the problem might be with your drainage, you can be guaranteed that our experts will be more than willing to unblock your blocked drain WC2. With many years of experience, you can be sure that your blocked drains Charing Cross will be a thing of the past. Reach out to us for help in unblocking your drains.
LOCAL PLUMBER
Emergency Plumber Westminster is available and within reach to everyone in Westminster in need of plumbing, heating or draining services. We understand that plumbing issues and needs exist everywhere, and can come up at any time, because of this, we made our services available to all areas of Charing Cross. If you reside in Charing cross, our local plumber WC2 is available to you 24/7.
At Plumber Westminster, we are dedicated to delivering exceptional service to our clients, and we ensure customer satisfaction at all times. Do not hesitate to call on our local plumber Charing Cross the next time you encounter a plumbing difficulty.
GAS ENGINEERS
Plumber Westminster has one of the most qualified teams of well trained engineers, who are experienced to handle all gas-related issues. All our plumbers are well trained and certified, and we have the required level of experience and certification to show for it.
Be it an immersion heater, a gas leakage in the home, a sudden stop of your boiler or any other gas-related issues, rest assured that with just one call to us, our engineers will be at your doorstep. Reach out to us now!
CONTACT US
If you are in Charing Cross or the environs, then you can confidently bid goodbye to your plumbing, heating and draining problems. Plumber Westminster is not just available locally in Charing Cross but is dedicated to providing excellent plumbing services that are reliable, readily available and affordable.
Be a partaker of these amazing services today by putting a call to us on 02071833801, and we will make every penny spent worth it.
Recent Google Reviews

The plumbers offered great service at reasonable prices. Reached my place quickly. I will definitely use their services in future.



Hired them to install my new boiler. They did the work quickly and I am really happy with their work. I will not hesitate to recommend them to anyone who is looking for boiler installation.<