24/7 Emergency Plumbers in Hampstead Garden Suburb, N2
Plumber Barnet is a professional plumbing company that has been in the business of plumbing for over a decade. We are aware of the numerous plumbing and drainage problems here in Hampstead Garden Suburb which is why we have come to you with our services. You don't have to go far in search of a professional plumber anymore as Plumber Barnet has got you covered.
Here at Plumber Barnet, we support and help the people who live in Hampstead Garden Suburb with everything that has to do with plumbing and plumbing related activities. We have the capacity to work on various properties, be it commercial or domestic.
Our work quality and the several happy client reviews we have gotten online are necessary parts of our adventure to becoming one of the best plumbing companies in Hampstead Garden Suburb.
If you want any of our services at Plumber Barnet, contact us on 020 34751546.
100% satisfaction guaranteed
Recent Google Reviews

I called emergency plumber for fixing the issue with water heater. He checked the condition of the heater and provided quality service at an affordable rate. We are really happy to hire professional plumbers for our work.


I just had a new boiler installed from these experienced plumbers. I am really impressed with their service. See them next year for annual servicing. Highly recommended!

Why choose us
There are a plethora of reasons why we are people's top choice in Hampstead garden Suburb. Below are a few of them.
Attention to detail: Our primary aim is to give you the best amazing quality and get that plumbing problem out of your way in no time. We handle our job meticulously to ensure excellence.
Upfront honest rates: We give flat-rate, honest pricing in order for you to be aware of what to expect prior to any plumbing work. No surprise charges, no hidden fees!
Amazing customer service: Our plumbers and engineers N2 are very respectful and have the customers at heart. At Plumber Barnet, satisfying our customers is a priority which is why you can always count us to deliver impeccable output whenever you hire us.
OUR SERVICES
At Plumber Barnet, we know that the people of Hampstead Garden suburb have varying needs which is why we have a wide range of services to attend to your every need. Be it plumbing, drainage or heating, you can always count on us. Some of our services include;
Plumber Hampstead Garden Suburb
If you are in Hampstead Garden Suburb and in search of a plumber to help with your plumbing system, all you need to do is put a call through to us at Plumber Barnet. Our plumbers N2 can offer a wide range of services to ensure the plumbing system in your home or office is running smoothly and at all times.
We have fuly trained all of our plumbers in Hampstead Garden Suburb to ensure they deliver only quality services. Using modern techniques and equipment, you can be guaranteed of exceptional and reliable plumbing service when you hire us.
Reach out to us now!
Emergency plumber Hampstead Garden Suburb
Have you experienced a sudden saddening event in your home caused by your plumbing system? It could be a retrograding toilet or a burst pipe at ungodly hours. Whatever the emergency might be, we can fix it!
Fixing emergencies is what we do at Plumber Barnet. We are in the know of how distressing these emergencies can be which is why we have a team of emergency plumbers in Hampstead Garden suburb to arrive your property within the hour we get a call from you.
Our emergency plumber N2 will ensure that emergency plumbing faults are halted during their arrival and put your mind to rest. You shouldn't bother about emergencies ever again as with just a call, we will be there to fix it.
Call us right away to fix that emergency issue.
Boiler Installation
We know that boiler installation N2 are delicate which is why we employ a careful procedure in trainng our heating engineers. All our engineers are fully licensed and insured to carry out boiler installations in Hampstead Garden suburb.
No matter the brand of boiler you might want to install –Glow worm, Baxi, Alpha, Worcester Bosch – our expert engineers will gladly be of help. We have worked with several major brands and will carry out industry standard boiler installation in your home. We can also help in the selection of a suitable brand and size that will suit your usage.
Contact us today for your boiler installation and you will have a year guarantee and 10 years warranty from the manufacturer.
Boiler Repair Hampstead Garden Suburb
When it has to do with boiler repair in Hampstead Garden Suburb, our team of experts are known for delivering one of the best boiler repairs N2. When you call us for boiler repairs, we ensure we send only well trained and certified engineers to your facility.
With over a decade of handling boiler faults, we can handle just any problem yur boiler might have. Be it kettling, power issues, frozen pipes or uneven heating, we can fix it. Our boiler repairs N2 are not just affordable, but also comes with a 1 year guarantee.
Call us today on 020 34751546 and we will deliver quality and reliable boiler repairs in Hamstead Garden.
Heating services Hampstead Garden Suburb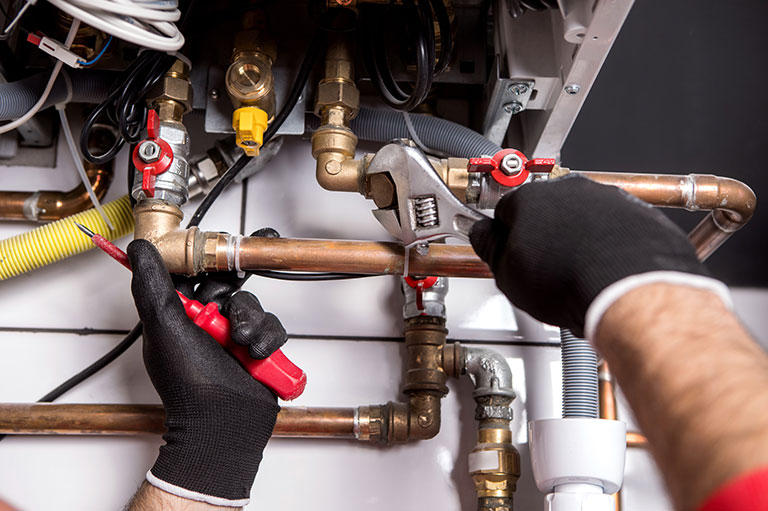 If you notice that just one radiator or few are not working, then the issue is most likely from your radiators, not your boiler. If you see that your radiator is cold at the top but warm at the bottom, it is likely you will need to bleed your radiator.
Heating services vary and even though some look quite easy and basic like the bleeding of your radiators, it is safer when you call in the experts. At Plumber barnet, our experts have been trained on how to carefully handle gas appliances to avoid casuing explosion through wrong handling. Our heating services in Hampstead Garden Suburb have awarded us lots of accolades as our engineers expertly handle anything that has to do with your heating system.
Call us today for our heating services N2.
Blocked drain Hampstead Garden Suburb
If you get caught up with a blocked drain in Hampstead Garden Suburb, you can always reach out to Plumber Barnet to assist you in unblocking it as soon as possible. You will need a long-term solution to that blocked drain.
Our plumbers N2 are well grounded in unblocking blocked drain N2 as we have modern equipement and techniques to ensure that blocked drain is cleared out and your drain is returned to full functionality.
Reach out to us today and we will our friendly plumbers within the hour to clear your bblocked drains in Hampstad garden Suburb.
Local Plumber
We work round the clock in your locality to ensure we can attend to your every plumbing need. Our local plumber in Hampstead Garden Suburb provide plumbing services for minor plumbing issues. They have been trained to properly address any plumbing issue you might have. All you need is a call to our local plumber N2 so that they will address that plumbing situation professionally without casing more damage. Reach out to us today!
CONTACT US NOW!
Emergency Plumber Barnet is waiting and ready to attend to your heating, drainage and plumbing needs in Hampstead Garden Suburb.
We look forward to providing exceptional services to you within Hampstead garden suburb and the environs at a very competitive price. Call us now on 020 34751546 rest assured that we will be with you withi the hour!
Recent Google Reviews

The plumbers offered great service at reasonable prices. Reached my place quickly. I will definitely use their services in future.



Hired them to install my new boiler. They did the work quickly and I am really happy with their work. I will not hesitate to recommend them to anyone who is looking for boiler installation.<