24/7 Emergency Plumbers in East Barnet, EN4
Are you in East Barnet? Are you in need of a quality plumbing service that can help repair your plumbing issues? Do not worry! Our qualified team of well-trained engineers at Plumber Barnet are always available to assist you.
Emergency Plumber Barnet delivers high-quality plumbing solutions in East Barnet and other surrounding areas. Our well trained professionals are available 24/7 and possess extensive knowledge and skill in providing the best plumbing solutions.
Why Should You Choose Us?
Trusted experts
We have reliable engineers and plumbers across London with extensive knowledge and skills in fixing your central heating and plumbing faults.
Easy booking
We are available at any time of the day. You can quickly call 02034751546 to book our services. We are always available for new clients and our existing customers also.
Round the clock availability
Plumber Barnet offers 24/7 hours of plumbing and heating services. You can contact us at any time of the day or night.
Excellent delivery
Our team of experienced plumbers are notable for our efficient and quick repairs and plumbing solutions.
We are well trained
Our engineers are well trained, ensuring all of your repairs and installations are safe.
Local Area
Plumber Barnet is a trusted company in East Barnet. East Barnet is a largely residential suburb located in Northern London. The suburb lies within the London Borough of Barnet and is home to shops and restaurants and public houses catering excellent and trusted services and products.
100% satisfaction guaranteed
Recent Google Reviews

I called emergency plumber for fixing the issue with water heater. He checked the condition of the heater and provided quality service at an affordable rate. We are really happy to hire professional plumbers for our work.


I just had a new boiler installed from these experienced plumbers. I am really impressed with their service. See them next year for annual servicing. Highly recommended!

Our Services
Do you reside in and around East Barnet? Give us a call today if you require any of the following services:
Plumber
If you need a plumber East Barnet, make an appointment now at Plumber Barnet, and we will attend to you without delay. At Plumber Barnet, our clients, old and new, enjoy the discounted services of very skilled engineers with extensive experience in all plumbing services, including repairs and replacement of broken toilets and pipes, blocked drains, and any other emergency plumbing services.
Contact us now on 02034751546, and our expert plumber N2 will be there to assist you shortly.
Emergency Plumber
Plumber Barnet offers a 24-hour plumbing Service in East Barnet. We are available throughout the day and at night. Our emergency plumberN2 are well trained to provide you with immediate and lasting solutions to your plumbing emergencies.
Reach out to our friendly customer service by calling 02034751546 and a team of experienced engineers will be with you in the shortest time possible to offer excellent troubleshooting skills and lasting repairs.
Boiler installation
Our engineers are well trained. We offer installations of domestic and commercial boilers in home and hospitals and all office buildings in East Barnet and provide quick response services for all emergency boiler installations.
Our boiler installation EN4 service are personalised to meet the specific needs of our clients and are offered at very affordable prices. Reach out to us today for quick and efficient boiler installations East Barnet.
If you need the installation of an immersion heater to provide you hot water for the short term use before completion of the boiler installation, our experts at Plumber East Barnet are always available and are only a call away. Make an appointment with us by calling 02034751546.
Boiler repair
A boiler breakdown is an emergency most homeowners dread. Most families and businesses find they require immediate boiler repairs in inconvenient hours of the day, and that is why here at Plumber Barnet, we ensure you receive boiler repairs EN4 whenever you seek it.
To ascertain the problem and ensure your boiler is in good working condition, our engineers will carry out the following:
Check for corrosion or the presence of leaks on your boiler
Carefully clean all parts of the boiler
Remove the casing of your boiler and run a proper check to ensure all components of the boiler is working without any fault
Check for gas pressure and ensure it is neither above nor below the required level
Check for signs of unsafe emissions leaving the boiler by running a flue test
Any faults encountered during the checks above will be repaired, and your boiler will begin to run smoothly in no time.
Heating services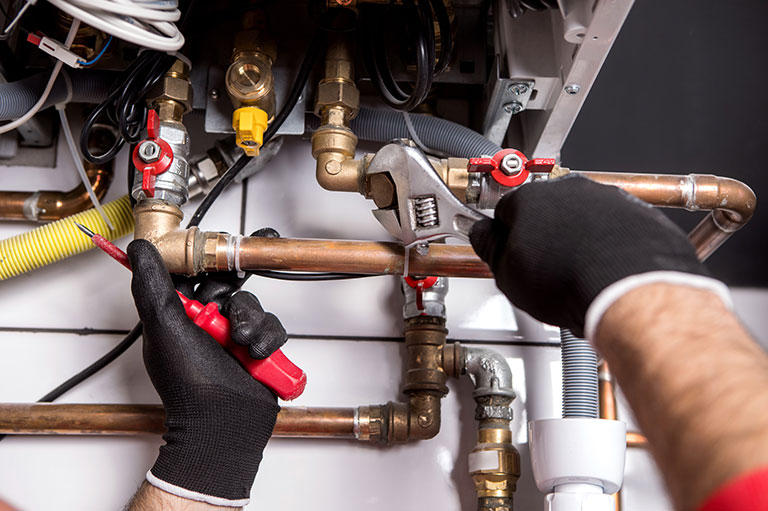 Having a professional engineer install and maintain your heaters will help you avoid impromptu damages, and save you future repair costs.
Here at Plumber Barnet, you get an offer of excellent heating services EN4 for whatever facility of your choosing, be it residential or business. Our expert engineers are available in East Barnet and are here to advise you on any installation, and provide you with a guarantee of a quick, friendly and trusted service.
Blocked drains
Blocked drains EN4 are extremely unsafe when it concerns the health of you and your family. A blocked drain could cause the spill of wastewater in your home, and make your pipes unusable. It is essential you hire a professional plumber East Barnet at once to fix a blocked drain.
Call Plumber Barnet on 02034751546, and we can have your drains and pipe cleared, and fix any additional repair fault with your blocked drainage. We offer affordable drainage clearing rates.
Local Plumber
The damages arising from most plumbing fault can be minimised if the service of a professional plumber is employed on time. This is where a local plumber EN4 becomes essential. A local plumber is nearly always available and can be contacted at any time of the day or week, even during the holidays. Plumbing issues can be repaired easily by a local plumber.
Get in touch with Plumber Barnet today by calling 02034751546. You can make an appointment to employ the expert troubleshooting skills of a trusted local plumber for all your plumbing issues.
Recent Google Reviews

The plumbers offered great service at reasonable prices. Reached my place quickly. I will definitely use their services in future.



Hired them to install my new boiler. They did the work quickly and I am really happy with their work. I will not hesitate to recommend them to anyone who is looking for boiler installation.<