Emergency Plumber In Shepherds Bush
Are you in Shepherd's Bush and in search of an expert and quick to response plumber? Have you suddenly realised that you have a leaking tap or a damaged stopcock and looking for a reliable plumber? Well, You are in luck! Emergency Plumber Hammersmith is just what you need. We are your go-to plumbing company for all your major and minor plumbing difficulties.
Be it an issue with your drainage suck as blocked pipes, or your boiler suddenly stops working during the winter, perhaps emergencies such as a burst pipe at strange hours, don't fret! All you need to do is dial our customer care number and we will be right at your doorstep within the hour to fix whatever plumbing, drainage or heating issue you might be experiencing.
Emergency Plumber Hammersmith is always available to attend to your calls of distress round the year. With our expert plumbers and well trained engineers, you can rest assured that your plumbing difficulties will be thrashed out in no time. Don't hesitate to put a call across to us today on 020 34751651 and we will send our plumbers to you.
100% satisfaction guaranteed
Recent Google Reviews

I called emergency plumber for fixing the issue with water heater. He checked the condition of the heater and provided quality service at an affordable rate. We are really happy to hire professional plumbers for our work.


I just had a new boiler installed from these experienced plumbers. I am really impressed with their service. See them next year for annual servicing. Highly recommended!

Why Choose Us?
There are countless reasons why we are chosen by several repeat customers in Shepherd's Bush also leading to referrals due to our much-trusted services. Here are but a few reasons why you should make us your first choice.
We are reliable
Round the clock availability
Vast years of Experience
Well trained professionals
Competitive Pricing system
Exceptional service delivery
Our Services
Plumber in Shepherd's Bush
Emergency Plumber Hammersmith is your ideal company for all major and minor plumbing services. Whether it is the replacement of pipework in your home or office or any other commercial facility, you can count on our expert service — we never fail to deliver excellence.
Our plumbers in Shepherd's Bush are adept at handling just any type of plumbing issue you might have. With our many years of experience, we can confidently say that we can undertake any plumbing job in Shepherd's Bush. All you need to do when next you encounter a plumbing issue is call us. Our very friendly customer representative will be glad to attend to you. We will ensure we arrive within the hour so that whatever the issue might be can be arrested.
Emergency Plumbing Service
Are you in a state of plumbing emergency and wondering the best person to call in order to salvage that situation? Think no more! Emergency Plumber Hammersmith is all you need in the time of emergencies.
We have a team of plumbers, engineers and readily stocked vans to ensure we can always attend to your emergency needs. Be it a burst pipe, or sudden turn off of your boiler or any other emergency, don't hesitate to call us today. Our emergency plumbers in Shepherd's Bush will arrive your facility within the hour and also offer professional advice as to what to do before their arrival.
You can never go wrong when you hire us — be it a drainage, heating or plumbing emergency, do call us right away.
Boiler Installation
Are you moving into a new property in Shepherd's Bush and need your old boiler installed in your new home without breaking the banks? Emergency Plumber Hammersmith is your go-to company for boiler installation in Shepherd's Hill. Whether it is a Worchester Bosch, Vaillant, Baxi, Glow-worm, or an Ideal boiler, you can be guaranteed that our engineers will ensure proper boiler installation Shepherd's Hill.
We ensure the installation is carried out in the shortest time possible following the industry's standard. We try to carry out installations on the same day and a max of 72 hours. In cases whereby the installation might take longer than a day, we will offer an immersion heater so that you are supplied heat and hot water during the period of installation. Call us today!
Boiler Repairs
Boiler faults and breakdowns are one inevitable occurrence, especially if you have not been carrying out annual maintenance. If this is you, don't fret! Just call Emergency Plumber Hammersmith in Shepherd's Bush to get it fixed for you.
We have an ever-ready team of engineers who are available to repair your boilers. No matter the brand of your boiler, we will be glad to repair it and get it working once again. In cases where we discover that the cost of fixing might outweigh purchase in the long run or that your boiler is getting old, we will advise you on replacing your boiler. We also carry out maintenance of your boilers to ensure it is working at full functionality and any hidden problem will be fixed.
Do well to buzz our phone lines right away.
General Heating in Shepherd's Bush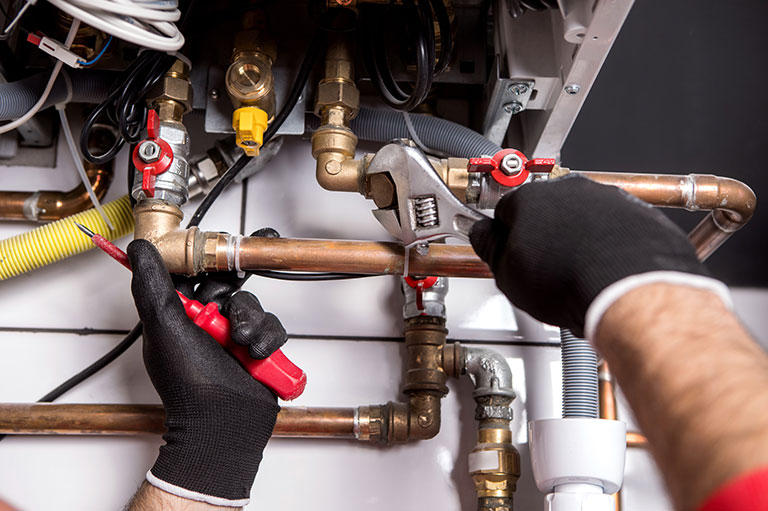 Our everyday lives are filled with lots of activities and many things we do involve the use of heating appliances. From the boilers, immersion heaters and down to the many other heating appliances we use in the home require the touch of professionals periodically. It could be as little as getting your appliances maintained, carry out repairs or even installation if you just acquired a new one. Whatever the case might be, Emergency Plumber Hammersmith can always be trusted to provide professional engineers to deliver reliable heating services.
Do contact us today and we will send one of our heating engineers within the hour.
Blocked Drains Repairs
Having a blocked drain in your bathroom or kitchen can constitute a lot of nuisance and proceed to ooze out an awful smell which is one we don't pray for. In as much as blocked drains in Shepherd's Bush are much detested, they turn out to be one of the most common plumbing problems we encounter in the home.
You don't have to worry again as our plumbers are just a call away. Be it a blocked toilet or any other blocked drain in your home, do well to reach out to us. We know some of these blockages can be eliminated using a plunger or plumbers snake, but you also might cause damage to the pipes, which is why the help of an expert is much needed.
Do well to reach out to us today by calling 020 34751651!
Local Plumber
Emergency Plumber Hammerstead is not just restricted to carrying out major plumbing repairs and installations, but we also cater to the minor plumbing issues in your homes and offices. No matter how small the problem might be, our local plumbers in Shepherd's Bush will always be there to carry out repairs and get it back to full functionality. Whether it is a bad shower head or a dripping tap or whatever plumbing issue you might be having, don't hesitate to call out to us.
Call us today and our local plumbers Shepherd's Bush will be there to attend to you.
Contact Us!!!
Are you still considering who to call for that plumbing, heating or drainage issue in Shepherd's Hill? Do ensure you give that job to the professionals — we will make your time worth it with our exceptional service and amazing pricing system.
Recent Google Reviews

The plumbers offered great service at reasonable prices. Reached my place quickly. I will definitely use their services in future.



Hired them to install my new boiler. They did the work quickly and I am really happy with their work. I will not hesitate to recommend them to anyone who is looking for boiler installation.<