24 Hour Emergency Plumber in West Brompton, Sw10
Are you experiencing non-stop discomfort from your plumbing system? Do you want to carry out general repairs and installation for your new home? Is your boiler getting old and suddenly begin to give countless hiccups? Look no further as Plumber Chelsea is all you need to bring a halt to your plumbing, heating or drainage problems.
At Emergency Plumber Chelsea in West Brompton, we have an expert team of well-versed plumbers SW10 and certified gas engineers who can help you to carry out repairs, maintenance and installation for your plumbing system.
If you are in West Brompton, you can confidently say goodbye to all your plumbing and heating challenges. Whether it be an emergency to unblock your drains or a regular call to fix a tap, perhaps a stopcock replacement, our plumbers in West Brompton will provide you with quality and reliable services that you can always trust.
All you need to do is give us a call on 020 71833921, and we will send our professional plumber to your facility within the hour. We look forward to working with you.
100% satisfaction guaranteed
Recent Google Reviews

I called emergency plumber for fixing the issue with water heater. He checked the condition of the heater and provided quality service at an affordable rate. We are really happy to hire professional plumbers for our work.


I just had a new boiler installed from these experienced plumbers. I am really impressed with their service. See them next year for annual servicing. Highly recommended!

Why Choose Plumber Chelsea?
We are Reliable: When it comes to plumbing and heating problems in the home, you need a company you can always rely on. We are very reliable, and this has been one of the reasons behind our fast growth and wide reach.
We Provide a competitive pricing system: With Plumber Chelsea, you will never have to shy away from fixing any of your plumbing faults or installations in West Brompton. We provide a very affordable pricing system to ensure the people in SW10 can benefit from our services.
We are well-versed: We are not just professionals, but we are also highly experienced and skilled. We use this knowledge to carry out excellent services to our customers. You can rest assured of excellent services from our plumbers and engineers SW10.
Customer Satisfaction is guaranteed: When you hire us, the optimum customer's satisfaction is guaranteed. We use our skills and expertise to ensure we deliver amazing services to our customers. Book us now to partake of our amazing services in West Brompton.
Local Area
West Brompton is one of the boroughs in West London. It is sourounded by Fulham to the west, Fulham Broadway to south, Earl's court to the north and Chelsea to the East. It has the dialling code of 0207 with postcodes SW5, SW6 and SW10.
West Brompton consists of both residential and commercial properties. West Brompton is not just home to a lot of people but houses the very popular Stanford Bridge stadium where the popular Chelsea football club plays. There are lots of world-class eateries with tantalising meals to whet your appetite.
With the amount of building in West Brompton, having professionals to fix your plumbing issues becomes a necessity. Plumber Chelsea is right within your neighbourhood to ensure you never have to worry about plumbing, heating or drainage services. Call us today.
Our Services
At Plumber Chelsea, we provide a wide range of services to ensure the people of Chelsea never have to worry about plumbing, heating and drainage issues. Some of our primary services include the following.
Plumbing Services
If you are out for professional and affordable plumbing services from an expert plumber in West Brompton, then Plumber Chelsea is the right company for you. We can handle a wide range of plumbing services. You can reach out to our plumbers SW10, and they will be glad to help. Be it a stopcock replacement, a faulty tap, or a dripping toilet, our plumbers will be delighted to show up and save the day.
Contact us now for a plumber if you are in or around Chelsea!
Emergency Plumbing Services
We are Emergency Plumber Chelsea and just like our name, we are readily available to attend to whatever emergency issues you have in Chelsea. Our emergency plumbers SW10 are experts in emergency issues — we always try to arrive within the hour when you reach out to us. Whether it is a burst pipe in the middle of the night or your boiler suddenly turns off in winter, our emergency plumber in West Brompton will be there in no time.
Call us now, and you will be glad you did.
Boiler Repairs
We have lots of appliances in the home, and it turns out the boilers are one of the most used and sturdy appliances in the home. Due to the high usage, they tend to develop faults. If you require boiler repair in West Brompton, reach out to Emergency Plumber Chelsea today, and we will send our expert right away. We are professionals and provide excellent boiler repair services in SW10. You can never go wrong when we handle your repairs.
Call us now!
Installation Of Boilers
Whether you are moving into a new house or your old boiler is beginning to see its last days, or you just want to upgrade your boiler, Plumber Chelsea will be glad to help out. We carry out boiler installations in West Brompton using our team of engineers. If you need a boiler installation SW10, reach out to us. We are experts in installing top boiler brands like Worchester Boschs, Vaillant, Glow-worm and several others.
Get excellent boiler installation services by reaching out to us.
General Heating Services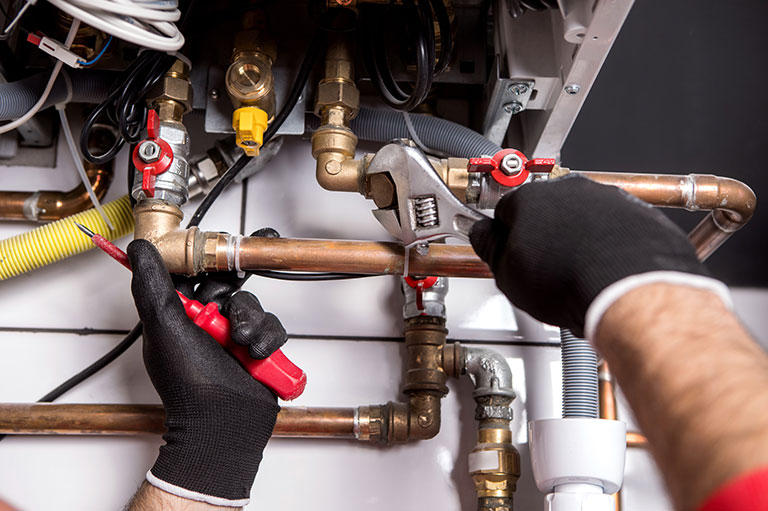 At Plumber Chelsea, we offer a vast range of heating services. For your gas safety testing and certificates, gas repairs, gas leakage in the home to the fixing of your immersion heaters, you can count on us. Our heating services in West Brompton are one of the best with reliable gas engineers delivering them to you.
If you need reliable and quality engineers for any heating services SW10, do reach out to us right away.
Local Plumbers
If you are in West Brompton, then you will know that having a local plumber close by who can help with changing of faucets and tap repairs is highly necessary. We know that several minor plumbing issues occur in the home now and then and you need an expert plumber in West Brompton to help out which is why we have provided local plumbers for you.
All you need to do is call for a local plumber SW10, and all your minor plumbing issues will be fixed right away.
Blocked Drains
Are you having a house party and you suddenly discover your kitchen sinks are draining slowly? Or perhaps total blockage in your toilet? This can be a really horrible situation, more so very embarrassing. Plumber Chelsea is all you need in this situation — we are excellent at unblocking drains in West Brompton. If you have a blocked drain in West Brompton, all you need to do is give us a call, and we will be there within the hour to unblock the drain.
CONTACT US!
Are you still giving it a thought as to who you will hire for that plumbing job? Emergency Plumber Chelsea is all you need to have all your plumbing, heating and drainage needs met. We provide quality, reliable and affordable services.
You can never go wrong when you hire us.
Call us today, and we will put a smile on your face with our excellent services!
Recent Google Reviews

The plumbers offered great service at reasonable prices. Reached my place quickly. I will definitely use their services in future.



Hired them to install my new boiler. They did the work quickly and I am really happy with their work. I will not hesitate to recommend them to anyone who is looking for boiler installation.<